Network monitoring provides enterprises with a comprehensive view of their network and current status, and also allows them to identify ways that will help enhance the overall performance of the processes and address different security vulnerabilities. A Network monitoring tool is capable of permitting Managed Service Providers (MSP) to gain an actual picture of the existing network of new customers, prior to signing a service providing contract. Network assessment enables the MSP to understand the scale of vulnerabilities or issues in the potential new client's network. Let's take a look at the top 10 network monitoring tools of 2018.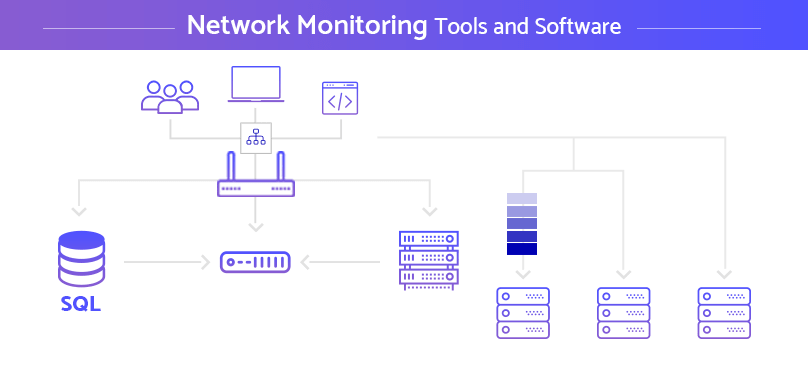 1. Comodo ONE Network Assessment tool
Comodo ONE Network Assessment tool allows client admins to execute scans on their networks in order to detect vulnerabilities on the endpoint, server, and network level. It instantly generates detailed risk reports for scanned networks along with actionable advice on how to fix the issue. Features of C1 Network Assessment Tool include:
Log monitoring
Schedule actions
Performance monitoring reports
Network map dashboard
SNMP trap monitor
Performance monitoring
Monitor email quality of service
Top list for real-time answers
File and directory monitoring
Database monitoring
2. WebTitan
WebTitan provides a suite of security and monitoring platforms to businesses of all sizes. These platforms offer an extensive range of powers to IT administrators. WebTitan Cloud provides a filtering solution for organizations to monitor, control and protect their online users from web content. The policy engine of this platform enables admins to block access to specific web pages, while modifying the policy for other departments in the organization. A reporting section is also available and this covers trend reports, security reports, behavior-based analysis, and more. These reports can even be scheduled, directly sending the insights to the team members who need them.WebTitan packages also offer DNS-based web filters capable of blocking malware, phishing attempts, and
ransomware
.
3. Spiceworks
Spiceworks ensures to keep you fully up to date on the network happenings that concern you the most. This network monitoring tool provides an IP lookup tool to trace and detect unknown IP addresses in the network, a subnet calculator for developing new subnets and converting classless inter-domain routing (CIDR) notation to an IP range, an interactive outage heatmap, and a traceroute tool for troubleshooting connection issues.
4. Pulseway
Pulseway provides a real-time overview of all the machines under operation in order to help IT departments and system administrators to stay right across their organization's network. It offers a business management integration that comprises of functions for project management, accounting, ticketing, time-tracking, invoicing, CRM, billing and help desk support; a storage integration for business continuity and disaster recovery in the event of outages and data loss, and an antivirus integration powered by Webroot and Kaspersky for end-to-end protection.
5. Atera
Atera incorporates remote monitoring and management (RMM) with professional services automation (PSA) in a business management platform that is created and operated in the cloud. The Atera platform offers IT administrators a variety of features to stay on top of their network. These features include
remote access
of computers, servers, desktops, apps and files, software updates, real-time alerts on events like user log-ins, IT automation and patch management, VMware and IP monitoring, and analytics tools to dig into data and records.
6. Netwrix Auditor
Netwrix Auditor provides maximum visibility of IT infrastructure changes, data access and system configurations to the IT administrators of an organization. Netwrix's security analytics technology is another vital component that monitors IT environments and allows you to identify abnormal user behavior or threats. Netwrix Auditor enables users to make sure that their business adheres to and is compliant with HIPAA, SOX, PCI DSS, and FERPA standards, among others. This network monitoring tool supports auditing on a wide selection of IT systems, including Office 365, Windows file servers, Oracle DB, Vmware, and Active Directory.
7. NetworkMiner
NetworkMiner is a network monitoring tool that captures network packets and then analyzes the data to extract images and files, thus assisting you in reconstructing events that a user has taken on the network. This can also be done by parsing a pre-captured PCAP file. As a Network Forensic Analysis Tool (NFAT), NetworkMiner, has the potential to obtain information such as operating system, hostname, and open ports from hosts.
8. Capsa Free
Capsa Free is a network monitoring tool that allows users to monitor network traffic, analyze packet, and troubleshoot network issues. Features include support for more than 300 network protocols, MSN and Yahoo Messenger filters, customizable reports and dashboards, and email monitor and auto-save.
9. Telerik Fiddler
Fiddler is a web debugging tool capable of capturing HTTP traffic between chosen computers and the Internet. It permits you to examine outgoing and incoming data in order to monitor and alter requests and responses before they could reach the browser. Fiddler gives you detailed information about HTTP traffic and can be employed for security testing of your web applications or for testing the performance of your websites.
10. Pandora FMS
Pandora FMS is a performance monitoring, availability management, and network monitoring tool that keeps an eye on applications, servers, and communications. It is available with an improved event correlation system that permits you to produce alerts based on events from varied sources and notify administrators even before an issue gets escalated.