IT Security Providers
Cyber threats are on the rise globally, and many businesses are extremely vulnerable to it as a result of ineffective IT security strategies. Security solutions provided by IT security providers are essential for all kinds of organizations, particularly when considering the importance of the internet and the IT systems for running the day-to-day operations of an organization.
Information Technology (IT) is an important asset to organizations of any size. It speeds up the communication process and decision-making ability of the organization thereby making it extremely easy for organizations to locate and retrieve important documents.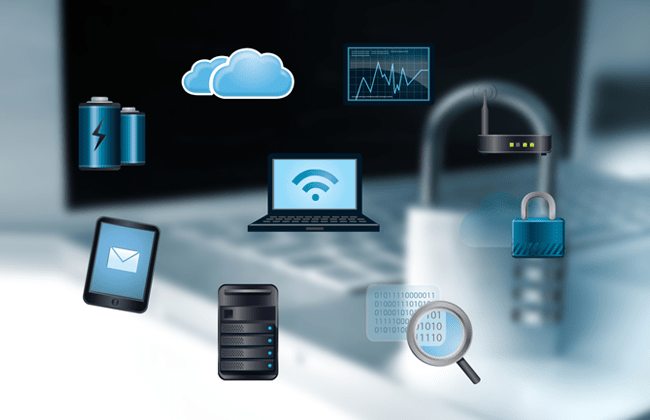 Apart from that, IT also continually enhances interconnectivity and cooperation within the organization. That said, new and powerful cyber security risks come with organizations' growing dependence on IT services.
Cybercriminals (including hackers, scammers, cyber extortionists, etc.,) want to steal important business information so that they can profit from their victims' (organizations) hard work.
They mainly target businesses that lack proper cybersecurity solutions, and whose business information is more valuable than others. To combat such threats, IT security providers offer various IT security solutions.
The Importance of Data Security
Without the support of a reputable IT security provider, businesses may fall prey to cyber attacks and have their sensitive business information stolen including bank accounts numbers, credentials, client data. Cybercriminals may use that data to enrich themselves by selling it to third-parties on the dark web.
This is the reason why it is important for an organization to work hard towards securing its business. The most challenging thing to do here is to find the right IT security provider.
Here, we are going to discuss a few essential things that you must consider while choosing an IT security provider. All you need to do is to pay proper attention towards the points mentioned below.
Reputation and user reviews play a vital role in deciding the right IT security provider. You need to research the available options carefully to find out the best one.
Let's look in detail about some of the very common forms of attack that hackers employ against organizations:
#Inside Attacks:
Inside attacks are carried out by the employees of the organizations itself. Sometimes, the cyber threat that threatens to destroy the company's data is someone who already has access to the network.
Dissatisfied former employees of the organization are the most common perpetrators of insider attacks, as they have the credentials and authorizations to hack the organization's network.
#Man-in-the-Middle Attacks:
In this type of cyber attack, a hacker exploits a non-secure network connection and interferes in the victim's online presence.
The hacker receives all the messages sent to the victim and can use them to impersonate the victim to discover or manipulate sensitive data.
#Password Attacks:
In this type of cyber attack, a hacker uses sophisticated password cracker programs to crack the victim's password. For that, the hackers do not need to trick victims to install any malware on their systems or do anything to the Organization's network.
Hackers can crack the victim's password through multiple processes (like guessing every possible passcode, and by using a dictionary as a reference point, etc.)
#Phishing Attacks:
In this type of cyber attack, an attacker posing as a trusted third party try to trick the victim into giving up sensitive information (like key account credentials such as passwords, social security numbers, etc.)
#Spoofing
This type of cyber attack uses similar deceitful tactics as the phishing attacks but convinces the victim to act against their own interests willingly (download a seemingly benign file or program from a seemingly reputable source that carries a virus)
#Ransomware
Ransomware attacks are evolving at an incredible pace and are becoming complicated than ever before. Ransomware is not going away and, in fact, is evolving every day- making it much more difficult for security products to avert these threats.
Ransomware usually appears in two forms: either by locking the victim's computer screen with a full-screen image or webpage to prevent the victim from accessing their computer or by encrypting their files stored on their computers.
Here are the top IT Security Providers in the US market.
#Comodo
The Comodo Cybersecurity organization tops the list of IT Security Providers regarding innovation, and cutting-edge solution that protects critical information across the digital landscape.
Building on its unparalleled position as the leading certificate authority in the world, Comodo Cybersecurity validates and secures IT networks and infrastructures from individuals to mid-sized organizations to the some of the world's largest enterprises.
Comodo Cybersecurity offers comprehensive end-to-end IT security solutions with some innovative technologies such as the containment technology to block even the most advanced malware threats. Comodo's IT security solutions provide complete protection across the boundary, internal network, and endpoint.
With the global headquarters located in Clifton, New Jersey, and branch offices in Silicon Valley, Comodo Cybersecurity has international offices in India, China, Romania, Turkey, Philippines, Ukraine and the United Kingdom.
For more information, visit Comodo.com. The current list of Comodo Cybersecurity trademarks and patents is available at Comodo Cybersecurity.com/repository.
#Symantec
Symantec is one of the leading IT security providers in the world. With one of the largest civilian threat collection network in the world, and collective threat intelligence through the Symantec Global Intelligence Network, Symantec offers a wide array of IT security solution to its clients.
The Symantec Global Intelligence Network tracks over seventy thousand global adversaries and studies events from ninety-eight million sensors worldwide. It also observes threat activities in over one hundred fifty-seven countries.
The resources collected through the Symantec Global Intelligence Network gives Symantec vast sources of data to identify, analyze, and provide valuable insights on emerging cyber security trends.
With the global headquarters located in Mountain View, United States of America, Symantec has international offices in Europe, Middle East, Africa, Asia Pacific and Japan.
#FireEye
FireEye is an intelligence-led IT Security provider. Operating as a seamless extension of customer security services, FireEye provides a single cybersecurity platform that combines innovative security technologies, enterprise-grade threat intelligence, and Mandiant consulting.
With that strategy, FireEye aims to eliminate the complexities and burdens of cybersecurity for organizations. FireEye has over five thousand and three hundred customers across sixty-seven countries, including more than eight hundred and twenty-five of the Forbes Global 2000.
#Trend Micro
Trend Micro was co-founded by Steve Chang, Jenny Chang, and Eva Chen in 1988. Their main aim is to create an antivirus software, but over the last three decades, Trend Micro has become one of the leading IT security providers offering a wide range of products for hybrid cloud security, small business security, network defense, and endpoint security.
Annually, Trend Micro generates more than a billion dollars in revenue and has over five thousand employees globally. Despite its sheer size, it has remained highly innovative – keeping pace with the ever-evolving threat landscape.
Trend Micro has been named as a market leader in endpoint security, cloud security, and server security. Its Breach Detection and Intrusion Prevention Systems have also gained considerable traction among its customers.
With the global headquarters located in Texas, United States of America, Trend Micro has international offices in Europe, Middle East, Africa, Asia Pacific, Japan, Australia and New Zealand.
#McAfee
McAfee is one of the leading independent IT Security Providers in the world. By building IT security solutions that work with other companies' products, McAfee helps companies regulate cyber environments, where protection, detection, and eradication of cyberthreats happen simultaneously and collaboratively.
McAfee was acquired by Intel in February 2011 and became a part of the Intel Security division. On April 3, 2017, Intel Security and TPG Capital joint forces to form a joint venture between both companies.
McAfee primarily develops IT security solutions for PCs and server devices, and more recently, for mobile devices.
Importance of IT Security Providers and Managed Services
The term 'Managed Services' has been used a lot likely, why is that? Has it become a loosely defined all-inclusive phrase, what exactly is it and what does it mean to you?
Depending on who you talk to, 'Managed Services' can mean different things. But usually, the definition you get is only the part of the full meaning. Let us help you understand managed services.
Technology has enabled many businesses across the globe to do great things. With the right IT Solutions, organizations can fulfill orders, close new sales, secure their IT infrastructure, increase efficiency and watch profits skyrocket.
Technology is not a set it and forget it activity, successful business owners see IT as a strategic investment that provides velocity in the marketplace and the ability to better serve the clients and customers.
Technology is an investment that requires care and attention from skilled and certified IT professionals. Managed services providers, will take care of your day-to-day IT support needs, help secure your IT infrastructure from cyber threats, help you make IT a strategic decision and allow you to stay ahead of the competition.
When you partner with a managed IT services for all your IT support, IT security and service needs, you know you have everything you need to achieve your business goals. For a flat fixed rate cheaper than hiring your own IT professional, you can enjoy the latest technology without compromising your company's bottom line.
Benefits of Using IT Security Providers and Managed Services
If a big part of your job involves making smart choices for your business, standing up to the speed of the market and empowering your staff to do their best, you should choose one Managed IT Service Provider.
As a decision maker or manager, you have to make sure that your technology is operational at all times. But, what happens when your network crashes or email goes down, or your users infected with malware when your business and staff need you the most.
Most companies grapple with two major issues: keeping their IT infrastructure operating at optimal levels and managing its operational costs. On top of that, advancements in the field of technology and adoption have complicated the things even further.
Most organizations spend a considerable amount of money and time to keep those things under control. For such scenarios, the simplest way is to hire a managed service provider (which is also an IT Security Provider) that takes up the complex tasks.
Let's say you run a business; it could be small, medium or large. You could be making specific apps or large enterprise software whatever the case, you have specific technology needs.
You need to help vendors, employees, and customers communicate. You need to protect confidential information; you may have needed an e-commerce solution. Typically, you would hire IT staff to buy, lease, build and manage what you need. But, technology has become more expensive, its also much more complicated.
So there is more for your staff to handle or what if they don't have to? What if somebody else (maybe the technology itself) could handle your needs so you could run your business? Comodo ONE let you just that by meeting all your technology and communication needs.
Comodo ONE will monitor your IT proactively and anticipate problems, so things don't break down in the first place. You don't have to worry about downtime, and your staff will stay more productive and focused.
You don't have to stay all nights fixing and worrying about your IT problems if you choose Comodo ONE. It will make sure your systems are up and running smoothly at all times.
Comodo ONE (managed services) can be a perfect fit for you and your business. As your trusted team of IT professionals; we can ensure that you have the right solution to meet all of your business requirements.
Protect Your Endpoints Even From Potent Cyber Threats
Another great product for organizations is the Comodo Advanced Endpoint Protection (AEP).
With an in-built containment engine that automatically contains all untrusted processes and applications in a secure virtual environment, Comodo AEP provides complete protection against any malicious software including ransomware.
For unknown files, Comodo's local, and cloud-based Specialized Threat Analysis and Protection (STAP) engine provide a verdict (good or bad) of such files almost instantly.
Comodo AEP can quickly identify and eliminate malware (including ransomware) across endpoints without affecting end-user experience.
Our IT Security solutions are tailored to meet your specific needs, and we are ready to serve you. Email us at EnterpriseSolutions@comodo.com or call us at +1 888-551-1531, we are happy to help you.