Why Free Remote Access Tool?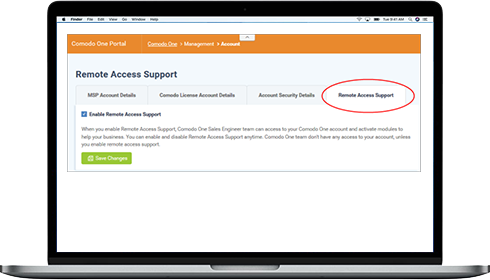 Free remote access is the ability to access or communicate with a device/ computer/ data processing facility from a remote location through a free remote access tool (RAT). It enables Managed Service Providers (MSP) to monitor and manage client systems remotely.
Comodo Free Remote Control & Access
Comodo Free Remote Control & Access allows MSPs to review performance data and execute remote patching, updates and service configurations to managed servers, desktops, applications and mobile devices.
The Necessity for Free Remote Access
Remote Access is essential for any MSP to monitor and provide any type of service. It would be a difficult task and financially prohibitive to monitor devices and provide services just from the physical location. Free remote access tools are a necessary for real-time monitoring.
Free Remote Access Software for an enterprise, employees who are not physically present in the enterprise location may need to access other devices (including mobile devices), computers and servers connected to the same enterprise network.
MSPs need to generate recurring revenue, and this requires a streamlined process. Effective service support requires proactive engagement with clients/ customers, and this requires Free Remote Control and Access.
Free Remote Access Tool License [ No Licensing Cost ]
As the Free Remote Access and Comodo RMM are free, MSPs do not need to spend on expensive licensing costs. This allows MSPs to convert break-fix customers to managed service customers, resulting in regular recurring revenue.
Comodo Remote Monitoring and Management (RMM)
Comodo Remote Monitoring and Management (RMM) provides Managed Service Providers complete visibility and control over the connected client systems they manage. Through free remote access, MSPs can standardize and automate existing processes on managed systems, improve the efficiency of their workflows, view real-time data and alerts from managed customer networks, reduce operating costs and enhance the quality-of-service.
Comodo RMM utilizes free remote control and access for comprehensive endpoint monitoring and alerting services, along with ultra-fast remote desktop sharing, and professional services automation (PSA). Additionally, it provides powerful policy and job creation interfaces and automatic support ticket generation. Further, it allows custom scripting for automated break-fixing.
No Licensing Costs
Comodo ONE is a complete, scalable, integrated IT management platform for Managed Service Providers which combines free modules such as Free Remote Access, RMM, Service Desk, and Patch Management as well as paid solutions such as Mobile/Endpoint security management.
Did you find this article about RMM helpful?